General
Record microphone
1.
Click on the microphone button at the top
2.
In order to stop recording, click on the screen or wait until you reached the maximum recording length
Important note
The maximum recording length is currently set to 40 seconds
Record keyboard
2.
Click on the keyboard icon
3.
Click on the record icon on top of the keyboard
5.
Click on the record icon of the keyboard again
Important note
You can to change the amount of bars at the top left of the keyboard
Hypertron needs to have started playing in order to be able to record the sequence
Noterepeat
1.
Press on one of the four noterepeat steps
2.
You can change the rythm by sliding to another step.
3.
If you want to fix the step, slide up and release your finger
4.
You can reset noterepeat by clicking anywhere on the button again
Important note
By locking note-repeat it will ignore all patterns of the selected pad across groups
Noterepeat only works when Hypertron has started playing
Masterbus
iPhone
1.
Click on the menu icon the at the top
iPad
1.
Click on the Masterbus icon at the top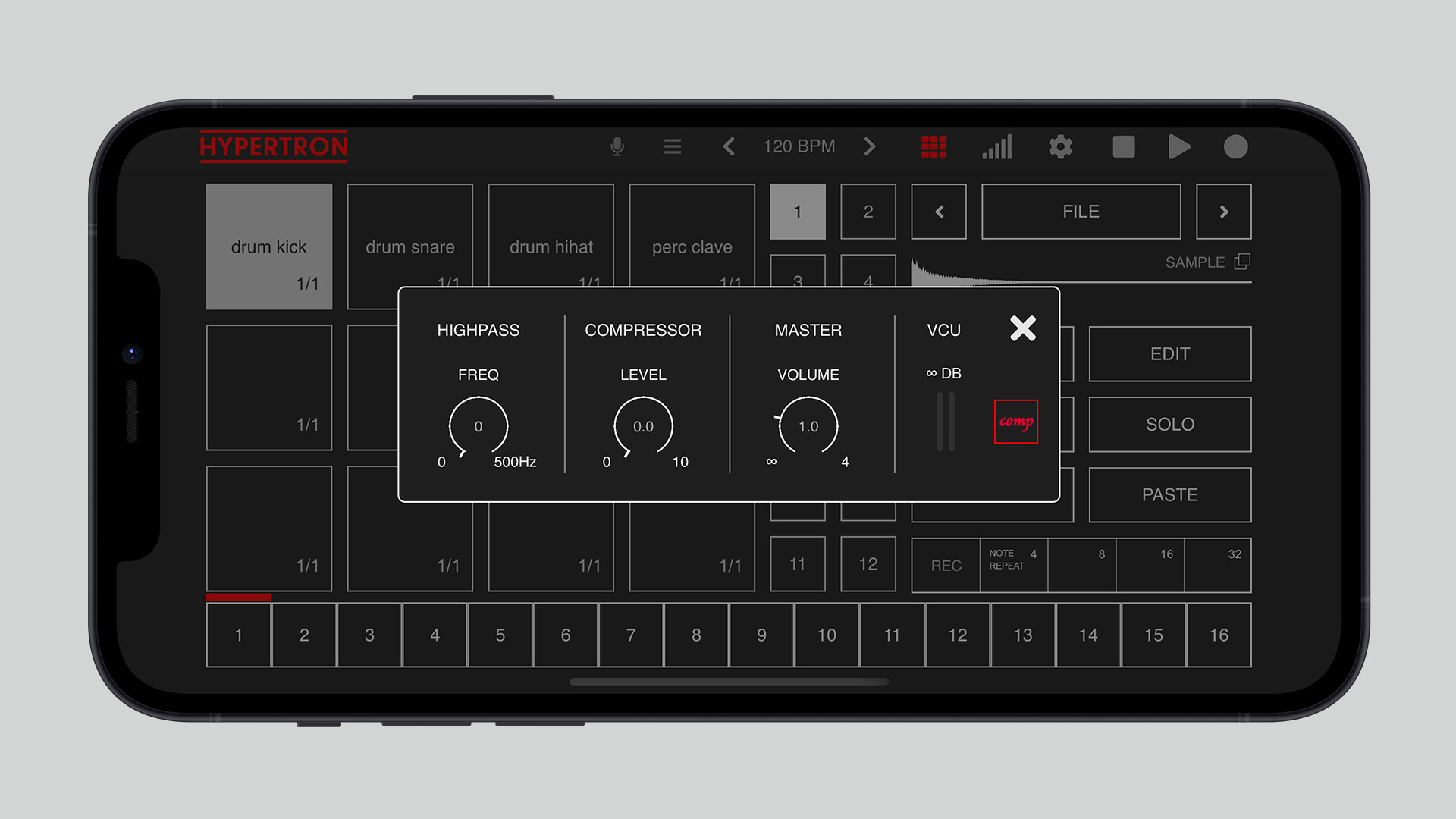 Important note
The Masterbus lets you adjust lowpass filter, compressor and volume of your track.
The button at the right lets you switch between volume- and compression-meter.
Editor
3.
Click on the up and down buttons to change the pitch of each step
4.
Add and remove bars with the buttons at the top left
5.
You can also duplicate bars by clicking the button
6.
The controller in the middle lets you skip through all bars
7.
In order to copy the pattern of your current bar, click on the copy button at the top right. Then select any bar you like and replace its current pattern by clicking on the Paste button
8.
You can also clear your bars by clicking on the delete button
PRO
1.
Click on GET PRO at the top
3.
Confirm your In-App-Purchase
Important note
If something went wrong with your last purchase or if you want to restore your purchases on a different device, click here.